Home
| | | |
| --- | --- | --- |
| From Melrose to Sweden, Blue ring news has it covered. | | |
Tuesday, 22 September 2015
Melrose Music Muster 2015
http://www.melrosemusicmuster.info/
THE LINE UP FOR 25th 26th 27th SEPTEMBER 2015 MELROSE MUSIC MUSTER IS LONG AND ALL IN CAPS!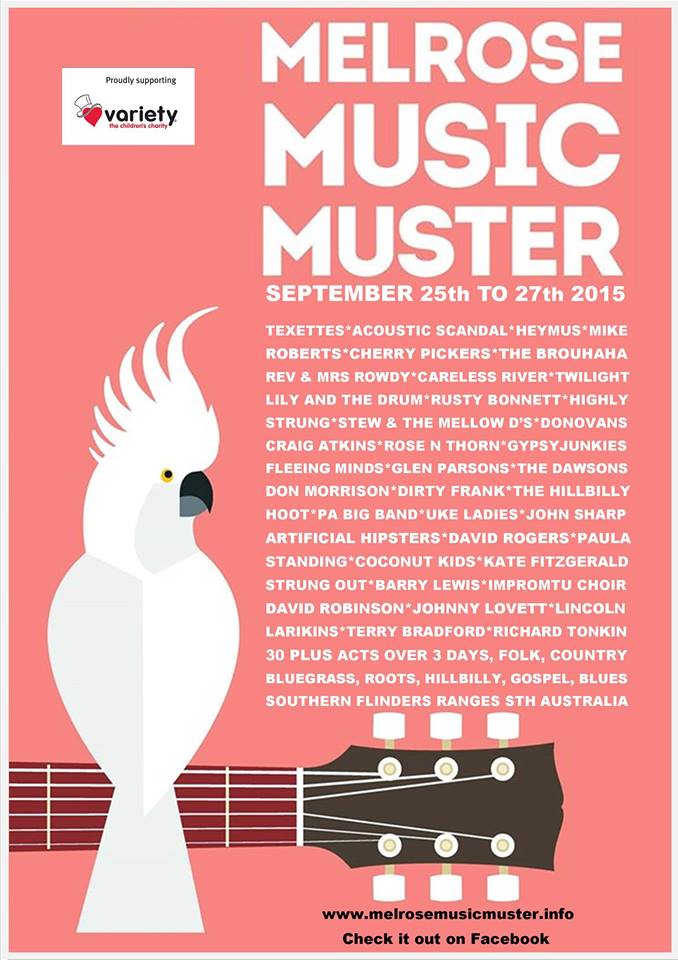 TEXETTES - RUSTY BONNET - ACOUSTIC SCANDAL - HEYMUS - MIKE ROBERTS - LILY AND THE DRUM - CHERRYPICKERS - THE BROUHAHA - CARELESS RIVER - CRAIG ATKINS - REV & MRS ROWDY - PAULA STANDING - DONAVAN LEECHS - DON MORRISON - HIGHLY STRUNG - JOHN SHARP - THE HILLBILLY HOOT - DAVID ROBINSON - GYPSYJUNKIES - JOHNY LOVETT - PA BIG BAND - UKULELE LADIES - GLEN PARSONS - KATE FITZGERALD - STEW & THE MELLOW D'S - RICHARD TONKIN & TERRY BRADFORD - IMPROMPTU CHOIR - DESSERT SINGERS - EMMILY SMITH - JIM KOKOTIS - ARTIFICAL HIPSTERS - ROSE N THORN - STRUNG OUT - DAVID ROGERS - FLEEING MINDS - THE DAWSONS - DIRTY FRANK - FUDGE - 30 PLUS ACTS OVER 3 DAYS, FOLK, COUNTRY, ROOTS, BLUEGRASS, HILLBILLY, GOSPEL, VOCALS, INSTRUMENTALS, TRADITIONAL, CONTEMPORARY, ALTERNATIVE, SOUL GOOD AND I'M SURPRISED YOU'RE NOT LISTED IN THERE - EVERYBODY ELSE IS!
But, what about: ACCOMODATION
Where will I stay???? Well, here's a list to try:
ALDER HOUSE LAURA 37 WEST TCE LAURA PH 08 86632329
BLUEY BLUNDSTONES 30-32 Stuart street Melrose PH 08 86662173
CAMP WILLOCHRA ANGLICAN CHURCH PH 08 86622249
CHERRY TREE LODGE 37 WEST ST LAURA PH 0439003101
DD'S OLD BANK HOUSE B&B STUART STREET MELROSE PH 08 86662211
KOOKABURRA CREEK RETREAT, 10klm north MELROSE PH 08 86662994
PH 0439618378
LAURA BREWERY B&B PH 08 86632251
LAURA CARAVAN PARK PH 08 86632296
LAURA STAYZ 38 HERBERT ST LAURA PH 08 86632100
LITTLE PUG HOUSE This e-mail address is being protected from spam bots, you need JavaScript enabled to view it
MELROSE CARAVAN PARK CAMP GROUND HOSTEL PH 08 86662060
MELROSE HOLIDAY UNITS PH 08 86662021
MELROSE PLACE PH 0428672284
MELROSE SHOW GROUNDS CAMP GROUNDS PH 0401002658
MURRAY TOWN HOTEL PH 08 86664250
MT REMARKABLE HOTEL MOTEL PH 08 86662119
NORTH STAR HOTEL PH 08 86662110
PEKINA HOTEL PH 08 86586184
PT GERMEIN CARAVAN PARK PH 08 86345266
PT GERMEIN HOTEL PH 08 86345244
STONY CREEK BUSH CAMP WILMINGTON PH 0488156850
TALYALA HILLS SMITH ROAD LAURA PH 08 86632576
TARALEE ORCHARDS PH 08 86684343
WILMINGTON CARAVAN PARK CABINS CAMP GROUND PH 08 86675197
PH 0423123390
WILMINGTON HOTEL PH 08 86675154
WIRRABARA HOTEL PH 08 86684162
Another Festival: the 2015 Semaphore Music Festival.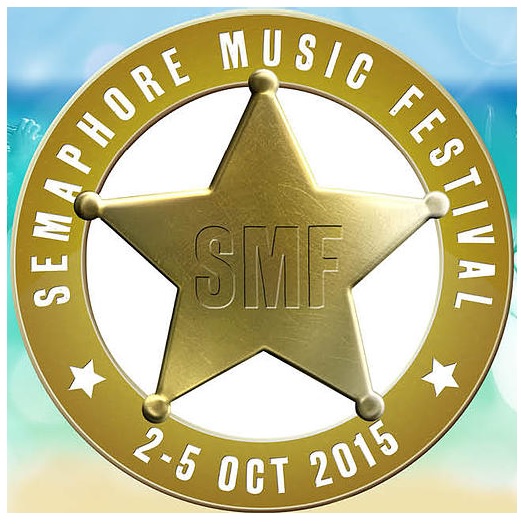 Go here: http://semaphoremusicians.wix.com/smf2015#!2015-lineup/k3q3w for colourful blurb on who's on…
... Pick it up

What else? Hang, on..... I will tell you in a minute or two – my chicken soup is steaming frantically on the stove!

Right, where was I? Oh Yeah: Amber Joy and the Holy Men are off to a festival in Balranald on the weekend of October 10. It is called the festival of the five nurgules or something… Actually, go here: http://www.5riversoutbackfestival.com.au/festival-program ... For more info; it looks pretty good.
If you are too fukn lazy to go have a look at the website I went and got some stuff for you. Here:
Balranald's 5 Rivers Outback Festival 2015
The Festival, inaugurated in 2010, celebrates all that is wonderful about living in a rural and outback NSW community that is surrounded by five of the most iconic river systems in NSW, and for one, it is the longest river in Australia. These 5 Rivers are The Murray River, The Murrumbidgee River, The Lachlan River, The Wakool River and The Edward River.
There is heaps of stuff going on over three days but here is a grab of the music program for Saturday October 10.
The chicken soup is going pretty good, by the way; I have dumped in some turmeric and five spice – I like the light Asian undertone that gives – and some finely chopped ginger (I am still trying to get rid of left-over flu bugs). Anyway, back to this other shit.
Snapshot of Five Rivers Festival programme here:

1.00pm: GATES OPEN
1.30pm: OPEN MIC Session
2.15pm: Outback Olympics - Mungo Wool Bale Roll
2.30pm: LIVE MUSIC - Jett Charman
3.15pm: Outback Olympics - Yanga 3-Legged Ski Race
3.30pm: LIVE MUSIC - Daniel Barrett
4.15pm: Outback Olympics - Inland Iron Man Slide/Sip/Slip
4.30pm: LIVE MUSIC - John Curran
5.15pm: Outback Olympics - Homebush Sports Day Race
5.15pm: LIVE MUSIC - Overdraft
6.15pm: Outback Olympics - PRESENTATIONS
6.30pm: LIVE MUSIC - KEG
7.15pm: HEAD SHAVE - Fundraising to help Cure Brain
Cancer - Balranald St Joseph's School staff
7.30pm: LIVE MUSIC - Chris Jacobs & Harlem Men
8.15pm: Speech from Balranald Inc Chairperson
8.30pm: LIVE MUSIC - Amber Joy Poulton
9.30pm: LIVE MUSIC - PAUL DeARAUGO,
Also, on October 11, I believe the Hurtin' Four will be crooning a batch of western tunes at the Vine Inn Nuriootpa. Hmm, sure seems like you'll need a motor vehicle to catch some of the best music this month.
Fundraiser for Daisy's family – Rock Of Ages

It's not that long ago we lost the great SA music champion and icon Daisy Day. Now, the state's rock royalty are plugging in their guitars to help Day's wife Annette, who's facing her own health battles.
Annette, who gave up her career to act as Day's carer for the past decade, has been diagnosed with breast cancer, prompting the likes of The Angels, Glenn Shorrock, Russell Morris, Brian Cadd, John Schumann, Swanee, The Masters Apprentices and others to join forces to put on a night of music and mateship dubbed Rock of Ages to raise money to support Annette and her two boys, Mitchel and Lachlan
David Day's Rock of Ages takes place on Tuesday, October 13, at Thebarton Theatre. Tickets are on sale at ticketmaster.com.au … with all proceeds going to the Day family.

This will be big:
AMC Yesterday's Heroes Recording Event
I told yer it would be big.
AMC "MIXMASTER SESSIONS"
10 GREAT & UNIQUE EVENTS...
10 AMAZING SESSIONS...
10 AMAZING SONGS...
10 AMAZING SINGER-SONGWRITERS
WITNESS IT ALL AT MIXMASTERS OVER 2 WEEKS.....
WWW.TRYBOOKING.COM

ALL TICKETS ONLY $25
ONLY 30 TICKETS PER SESSION
B.Y.O. & DOCUMENTARY.....
BE PART OF SA.MUSIC HISTORY
15-24TH OCTOBER

Can You read all that crap on the poster?? I can't, even with me 'readers' on. Wonder if it's important stuff?
DEEP SOUTH ROOTS, BLUES & FOLK FESTIVAL
RETURNING FOR IT'S FOURTH YEAR - NOV 19-22
In what is becoming a welcome tradition, Deep South - Blues, Roots and Folk - Festival is set to take over Adelaide iconic hotel The Gov for two days and four nights at the end of November. For the fourth year running, The Governor Hindmarsh Hotel entirely transforms into a fully-fledged festival with music stages throughout for Saturday and Sunday and delivers a stellar line up of local and interstate performers.
Headed by Australian blues guitar genius Ray Beadle, who will treat festival goers to two different performances over the weekend, the Deep South - Blues, Roots and Folk - Festival hosts The Backsliders fresh from a tour of the East Coast and the exclusive reformation of Adelaide soul/blues legends Double Whammy.
Three sister events are tagged for the Thursday and Friday including the charismatic Fiona Boyes releasing her new album on the Thursday evening as a limited seated "exclusive performance".
Friday Nov 20 hosts the return of the sell-out hit Women Sing The Blues with Ursula White, Jan Preston's Boogie Circus (NZ) and Zkye.
Festival goers can buy a weekend pass for the Saturday and Sunday at a discounted rate or purchase tickets separately for each day, including the bonus events on Thursday and Friday evenings.
There is probably plenty of other live gigs going on but if they don't get emailed to me I don't go looking, specially not on fbook.
WingNut previews the new Stieggersen Larsenbersengerner story book, straight from terrifyingly scary ABBAland, which re-introduces the character Lisbeth Salad-dodger in:
The Sheila with the Spider's Web
tattoos on her norks
"Jesus Wept, Lizzie…. What the hell is that on yer norks?"
"Ha, stupid is you? It is der spiders' web tattoos, eh?"
"Yeah, well, I c'n fukn see that. But…bloody hell…!! And what is that on the end of 'em?"
"On der nibble off each nork I heff tattooed the red back spider… in the middle of der web. Is goot, eh?"
"Well, um… yeah, I spoze… bet that red bit hurt; but, why put spiders' webs on your norks???"
"Oh? En' why nod? Is looging groovy, yes; no?"
"Well…. if you were twenty years younger they might look groovy but …"
" … Zey loog like der spider webs floating in der breeze when I wiggle zem, eh?" (wiggle, wiggle)
"Well… no! They look more like two string bags with mangoes in 'em jiggling off a washboard."
"You are very cheeky boy so I show you tattoo on my futtocks, eh?"
"Futtocks…?? Oh, you mean your… umm… fat buttocks… well, ok … let's see…."
"Dere …"
"Hmm… Let me guess… it's … I mean - they... they're the moon!"
"Ner, ner, silly! Der is der Uraloo… der Ayers Rock! Across the two humps."
"Really…? Well, the cellulite craters kinda tricked me. Very moonlike them dimples…."
"You are not paying attention to der tattoos, are you? You have noticed not the Ostrayan theme to dem, eh?"
"Well, nah; Oh, yeah…! Now I have! Yeah, yeah, I get it! So… the… er … the blue tattoo in the belly button dip is…. the … er …."
"Ja… is der….????"
"Um… the Blue Lake!"
"Ja! En' now I show to you the piece of resistance."
"What … there's more….???"
"Ja, ja… loog at my unkle on der left footsie…. What do you see dere?"
"Well… it sort of looks like a tattoo of the… the... errr… the toll gate at the top of Glen Osmond!"
"Yuss! En' now loog at the tattoo on the unkle of my right footsie… what do you see dere, eh?"
"Umm… is that the Mt Lofty Tower?"
"Yuss! Un now, when I open der logs, what do you see going from my left footsie unkle to der right footsie unkle, eh?"
"Fuk me… it's a tattoo of the South-East Freeway!!!!"
"Ja… (giggle) is goot, eh!"
"Yeah…! Very clever; goes right through the Heysen Tunnels!"

There's more but I adon't want to be a spoiler.
| | | |
| --- | --- | --- |
| The Man from Auntie bothers Mr Rabbit | | |
Tuesday, 08 September 2015
AMC Session #11
Friday October 2, the 11th AMC session will feature the Moonshine Jug and String Band, Gill Hicks with Gary Burrows & the Immanuel College Choir. Sasha March and Banjo Jackson will be opening the night.

AMC Session # 11 will see the SA Music Hall of Fame celebrating The Angels' Doc Neeson OAM and Chris Bailey, while inducting the precursor to The Angels - 'The Moonshine Jug and String Band' featuring fellow Angels The Brewster Brothers. Alex Innocenti will also be inducted for his contribution to music events and promotion such as the Myponga Music Festival, Adelaide Blues Festivals and The Cellar. SA Music Hall of Fame presentations will be courtesy of the one and only John Pemberton "Pembo" who will also paying tribute to the legendary David "Daisy" Day

M.C for the night will be Gary Burrows who will also be performing 'I Want To Tell you' with Gill Hicks. Gill has not performed publicly for over 10 years.
7:30pm (doors 6:30pm); tickets at: http://www.trybooking.com/Booking/BookingEventSummary.aspx?eid=15313

The AMC (Adelaide Music Collective) is a music industry group whose objective is Showcasing a wide variety of National/international musicians who hail from Adelaide.
Vincent's Chair plans on the table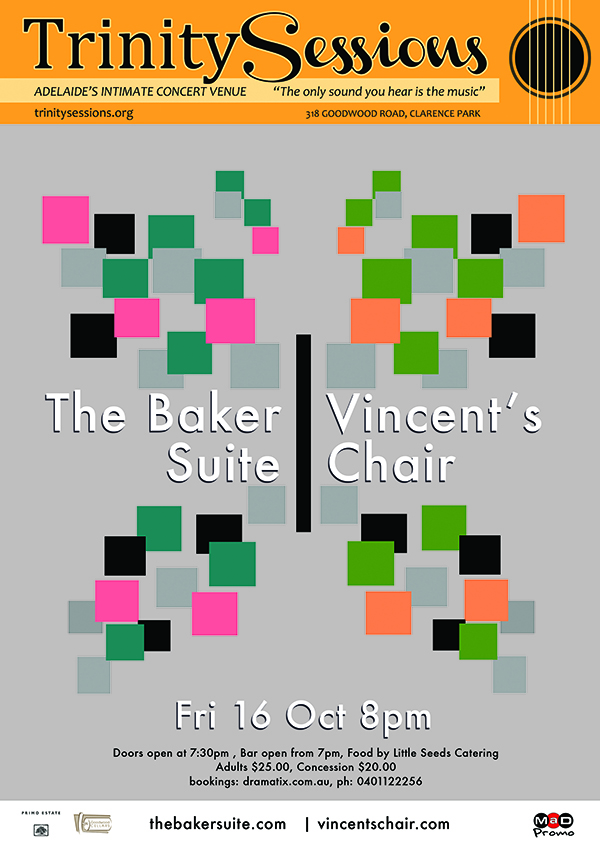 Vincent's Chair will depart for Europe Mid-September to undertake a few of performances along the Rhein, Frankfurt, Cologne and Stuttgart.
On their return Vincent's Chair will be staging a joint concert with friends, the Lounge Suite – sorry…. The Baker Suite, on Friday October 28. (see poster on the left). Should be very nice and very interesting. Noise starting at 8 pm. Tickets are now onside at Dramatix $25/$20; https://www.dramatix.com.au/events/1459
Music at Melrose

Melrose Music Muster 2015 from 25th - 27th September
Big Show this year…. Lots of music; lots of fun.
The music at Melrose takes place at various Main Street venues from Friday 6.00pm to Sunday Close. Get along for the best in Folk, Country, Hillbilly, Bluegrass, Roots, Vocals and Instrumentals, Gospel, Song, Dance, Contemporary, Traditional and Alternative; truly something for everyone who enjoys music! Except there's no Death Metal, I think. Or death Dub. Or Thrash Death Metal Dub….. so … perhaps there's a gap or two there that needs to be filled.
See posters for details.
Amber Joy out and about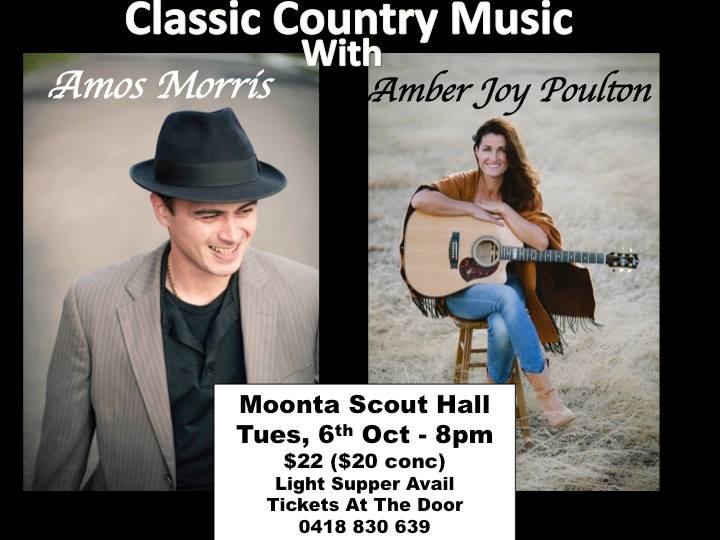 October 10, If you're out of town Moonta Way drop in to catch Amber Joy and Amos Morris at the Moonta Scout Hall - bit of dib dib dib and dob dob dob over there.

And if the travel bug is still biting later that week, drop in to Balranald for a night of country-style entertainment with Amber Joy and the Holy Men.
Fundraiser for Daisy's family – Rock Of Ages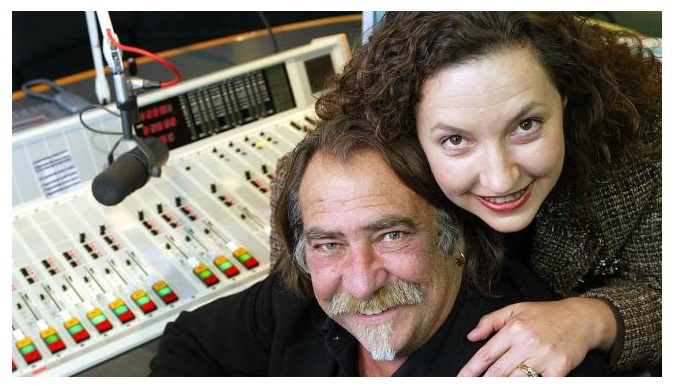 It's not that long ago we lost the great SA music champion and icon Daisy Day. Now, the state's rock royalty are plugging in their guitars to help Day's wife Annette, who's facing her own health battles.
Annette, who gave up her career to act as Day's carer for the past decade, has been diagnosed with breast cancer, prompting the likes of The Angels, Glenn Shorrock, Russell Morris, Brian Cadd, John Schumann, Swanee, The Masters Apprentices and others to join forces to put on a night of music and mateship dubbed Rock of Ages to raise money to support Annette and her two boys, Mitchel and Lachlan
David Day's Rock of Ages takes place on Tuesday, October 13, at Thebarton Theatre. Tickets are on sale at ticketmaster.com.au … with all proceeds going to the Day family.
ROCK and ROLL in the RIVERLAND is BERRI GOOD
MAKE SURE YOU GET YOUR BERRI FESTIVAL TICKETS for Berri In the Riverland, 16-17TH OCTOBER 2015
See poster thingy over there (left) for further details
Call Jackie 8582 2959 to book your tickets
And remember: Rock 'n' Roll is good for your body and good for your soul
The Man From AUNTIE
Scene: The Big House, Canberra
'Mr Rabbit?'
'….'
'Tony!!!'
'What is it, Cruella? Can't you see I was giving an audience to God, telling him that the escalating poor were a plague to be created and destroyed!'
'Yes, but a slimebag from Auntie is here to talk to you; a Mr Solo.'
'Sulo… what's going on with the bins, then, Ms Crudling?; you know I don't do the wheelie bins…. He will have to talk to someone else…. Put him onto Rupture Truss – he'll make him pay to take our rubbish away. Or fob him off to Malcolm Turncoat, he can give the bin man as much rubbish as we tell him. And Rupture will make him pay more for it ….snigger!'
'Tony, It's not Mr Sulo… It's Solo… Napoleon Solo.'
'Napoleon…. Isn't that an ice-cream? What's an ice-cream want with me? EH? Just send him in; I bet I can lick him, though…. Get it, Cruella, geddit?'
'You are thinking of Neapolitan, Mr Rabbit. Pay attention… Mr Rabbit…LOOK AT ME!'
'Mmm?'
'Listen…. Mr Napoleon Solo from the ABC is here to talk about the mighty ABF fukup in Melbourne and what part you had in the plot to stir up racist animosity and trying to create an apparent terrorist inundation of our streets. He will also ask you about Nazi and fascist policies you are urging our ministers to deliver under the worn-out cloak of "security"…'
'Do you reckon it's worn out? Old Shotyer Bolt reckons there are millions of Nazis out there in Oz…. He feeds them hot shit every day; keeps 'em juiced up.'
'Yes… but we don't want to get into that; when he asks about the ABF stuff-up you must very quickly shift the blame….. '
'Easy, peasy, Cruella. That's how I got here and that's how I'm gonna stay. Shift the blame. The terrorists in Melbourne are here because of, umm…. pink batts!'
'Duh! Look, it's better if you can blame the Gillard/Rudd commie-union connection. That always gets hands flapping and teeth gnashing in the letters-to-the-editor but pink batts will do if you're stuck. Anyway, I'll send him in…ok?'
'Yep.'
Door closes. Door opens.
'Mr Rabbit?'…'
'Yes, Cruella?'
'Tony…. It's the Man from AUNTIE to see you, Mr Solo…'
'OH… Hello Mr Sulo… if it's about the wheelie bins you'll have to speak with Pyne-O-Clean, he the one who goes through the garbage….'
| | | |
| --- | --- | --- |
| There's Gold in Country Music at Her Majesty's | | |
Wednesday, 12 August 2015
Gold Gold Gold…. And some platinum, too.

The big moment has almost arrive and if you haven't got tickets you won't be coming, I guess.
Country Gold is all about the golden hits of country music and it will be banging away at her Majesty's this Saterdee. I shall now hand you over to the blurb but before I do, I should point out that it is nearly filled up! Check out the list of suspects on the bill and you may decide it's pretty good value.
Country Gold brings a glittering haul of heartbreakers, contemporary classics, ballads and bluegrass and multi-award winners to Her Majesty's Theatre on Saturday 15 August, in a three hour music event spanning the decades.
The cream of established South Australian acts share the stage in a stellar celebration of Country Superstars, armed with more than forty 100% certified Gold hits. The massive star-studded line-up for this sensational country night out in the city, is headlined by multi-awarded Amber Joy Poulton and Sandra Humphries, who will be joined by –
• Jim Hermal & Runaway Dixie
• The Sherrahs
• The Holy Men
• Gary Daniel
• Charlie McCracken
• Graeme Hugo
• Taylor Pfeiffer (The Banjo Girl)
• Gary Burrows

Don't miss this concert extravaganza with the ultimate classic set list in tribute to Johnny Cash, Merle Haggard, Waylon Jennings, Hank Williams, George Strait, Glen Campbell, George Jones, Alan Jackson, Slim Dusty, Dolly Parton, Patsy Cline, Shania Twain, June Carter, Tammy Wynette, Loretta Lyn and so much more. Country Gold is on sale now at Bass on 131 246!
Go here: http://www.mariomaiolo.com.au/country-gold-show
AMC Sessions Number 10 - Friday, August 21
The Tenth AMC session this August has been the fastest selling show to date. Featuring for the first time in over 30 years 'Stars' (Mick Pealing & Mal Eastik), Celebrating over 50 years Ian Nancarrow and 'The Others' with singer/songwriter and fingerpicker Tom West and ARBA Memphis Blues Challenge winners 'Lazy Eye'.
AMC Session #10 is a Showcasing a wide variety of National/international musicians who all hail from South Australia:
• Stars - Formed from members of Adelaide bands such as 'Astra Kahn' , 'Flash' and 'Nantucket'. Their debut single 'Quick on the Draw' was a hit and by the time their first album was released in 1978 it peaked at No.11. Members Mal Eastik and Mick Pealing both have had successful solo careers and Andy Durant will always be remembered for his songwriting and guitar work.
• The Others - Formed over 50 years ago, The Others have been a staple in the Adelaide music scene. With countless lineups, one member has always stayed at the helm - Ian Nancarrow
• Lazy Eye - It has been a massive year for Lazy Eye. They opened the Clipsal 500 earlier this year and soon will be off to Memphis after winning the ARBA Memphis Blues challenge.
• PLUS... Tom West fresh from his EP launch and wrapping up his 'Oncoming Clouds' tour. His travels have taken him from Adelaide to the USA, Lima, Canada and wider Australia. Tom also opened a Neil Young show at this years fringe.

The SA Music Hall of Fame will be conducting their first band inductions with 'The Others' and 'Stars', while also recognising the individual achievements of Mal Eastik, Mick Pealing, Andy Durant (posth) and Ian Nancarrow. Presented by the one and only radio legend John "Pembo" Pemberton.
M.C for the night will be member of 'The Rustlers' and 'The Boys' - Gary Burrows.
AMC Session #10 - Friday, August 21, 7:30pm (doors 6:30pm) Purchase Tickets - Friday 21st August AMC Sessions
Gigs... reviews... interviews: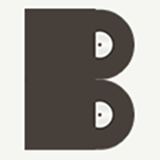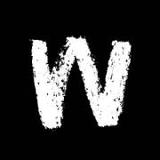 Gigs at the Wheaty: http://wheatsheafhotel.com.au/gigs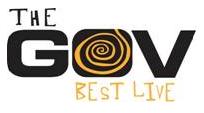 Gigs at the Gov.: http://www.thegov.com.au/index.php/gig_guide
REGURGITATOR - The Gov | Sat 5 September
The Gurge (left) not to be missed, eh?

Tickets: $40 + Booking Fee
Doors open @ 7:30 pm
Thursday August 20 – the Gilbert Street Hotel presents a warm evening of hot double voodoo blues and roots music with Sweet babyt James and Rob Eyers. Get along for a feast for the tummy and the tappy toes. Good victuals at the Gilbert.
Adelaide RnR Club presents THE BARSTOOL PHILOSOPHERS' at the Westward Ho Golf Club - August, 22, 2015
Book early for this great show/dinner and dance band. See poster thing for details.
The Semaphore Workers Club, Sun. Aug. 23rd presnts: PAPA LEGBA
They play The blues, B.E. --- (Before Elvis.)
Yes, if you understand it correctly, Papa Legba (anagram of Bagel???) the blues Elvis Presley stole to start his career. You will hear this stuff: ARTHUR "BIG BOY" KRUDUP ( THAT'S ALLRIGHT ); RTHUR GUNTER ( BABY LETS PLAY HOUSE ); ITTLE JUNIOR PARKER ( MYSTERY TRAIN )
WILLIE MAE "BIG MOMA" THORNTON ( HOUND DOG ).
And also stuff by: RAY CHARLES, nat king cole, HOWLIN WOLF, HOUND DOG TAYLOR AND THE HOUSEROCKERS, JIMMY ROGERS, JIMMY REED, AND T-BONE WALKER.
Doors open at 4; live music starts around 5.
The Semaphore Workers Club is The Home of Blues and Roots Music in South Australia.
Lenny Kravitz' Knob
On August 3rd, 2015, Kravitz' leather pants split down the middle during a performance of the song "American Woman" at a concert in Stockholm, Sweden. Immediately after, several photos and video of the incident began circulating online. https://www.youtube.com/watch?v=TNIrnHIoE5E
Well…. Photos schmotos… blue ring records got the real thing, an exclusive interview with Lenny Kravitz' knob shortly after the photos hit the web.

BRR: So, what's with the hanging out at the festival, then?
LKK: Frankly, mate, it was a freedom bid.
BRR: What... a break out?
LKK: Look , mate… why do feet stink? They stink because they is stuck inside leather shoes all fukkn day long. And I had been stuck inside Lenny Kravitz' leather duds for fukkn hours on a fukkn sweltering hot stage. And then he goes leaping about like a fukkn lemur with St Vitus' Dance and I was dripping with sweat, and chafin' an' everything.
BRR: Unpleasant…
LKK: That wasn't the fukkn 'alf of it; I distinckly merember Lenny's Mum say in 'to him before he went out: 'Len… have you got nice clean undies on? I don't want you embarrassing me if you get run down by an herd of ephelants and killed and taken away in the meat wagon with untidy underwear'. I heard her say that and I also distinckly heard Lenboy say: She's apples, Mum!' Well… he fukkn Eric Bibbed, din't he? He's wearin' no fukkn underdaks, splits his cowskin duds and there's me as nekkid as the day I was borned splashed over the fukkn interweb.
BRR: well… you didn't look too bad, what with the bling and all….
LKK: Well, it's all right to say that now, somewhat down the track a bit but I can give you the oil that getting' the bling in-fukkn-serted didn't 'alf bring a tear to my fukkn eye!
BRR: I am sure it seemed an unreasonable penance at the time but surely it's been worth it and continues to keep you in ...er … hot muffins… so to speak….?
LKK: Look, there's no denying we got ourselves into some tasty crumpet over the years and that bling has been what you might say is the icing on the cake in many of our after-concert adventures…
BRR: I suppose it looks pretty good, nestling in that err…. Brillo pad shrubbery arrangement Lennie has down there….
LKK: Oh, Yer… it's shiny enough, and it still rings the devil's doorbell on the traditionalists….
BRR: Traditionalists???
LKK: Yer, the ones that still like the traditional missionary style of folk dancing. And let me tell you, that's becoming a bit more the regular these days because, well, the fact is, Ol' Len's getting on a bit; he's been bashing away for nearly 30 years or so and now he's become sort of M.O.R. and …. well…. so is the audience! And truth to be told, me and my gonad mates find that we're bangin' up against a lot of old badgers these days. Not that I mind the greybeards, mind you, some of the MILF is quite doable – and the occasional GILF can give you a bit of a surprise, too - but while I still got me strength I'd rather hang about with a younger set. So that's why … well, I s'pose I'm a bit of an opportunist … but that's why I am talking to you now, as part of my freedom bid, to sort of let some younger rock god know that I am up for a tour or two and I won't be needin' any vi-fukkn-aggra to help me stand to attention.
BRR: do you have any …um… particular host in mind?
LKK: Nah, well… maybe one of them blokes from the Wombats… or British India… I'd rather stick with a guitar slinger…. don't fancy me bollocks banging on a pianner bench all night… and it'd be a bit like a tropical cyclone in a drummers dunghumpers. Don't want to waste me time with a 'orn player, you'd spend almost every in with Rosy. Nah, I'll stick with a gitar player. If it's a mutual agreement, of course. An' I'll do the job good an' all. Won't do kinky, though. Well… I might.
BRR: Are you really a British knob?
LKK: Nah, Nar… I'm in disguise, mate, so Lenny don't get the jump on me. Don't blow me cover, will yer? If he knows I'm tryin' to get me a younger blood supply he might up and trade me for a whanger like Kanye West… I know he's been sniffing around for gorilla's arm like West's got; something that's more 'V12 diesel' than 'straight 6 leaded fuel' model like me - I'm more suited to yer white boy pop gods. Anyway, I'll be pretty safe with your readers, eh? Them two won't blab this to Len, will they?
BRR: Doubt it.
<< Start
< Prev
1
2
3
4
5
6
7
8
9
10
Next >
End >>
Results 1 - 13 of 304